Here in  Nuevo Vallarta fishing we have just about to put the coronavirus behind us and can start concentrating 100% on fishing. Last month was slow here There weren't very many people coming but this month of June has started off with a blast. The virus is just about gone from Nuevo Vallarta and still, not many cases reported.  With many places having the same results there we be more people here for the summer fishing.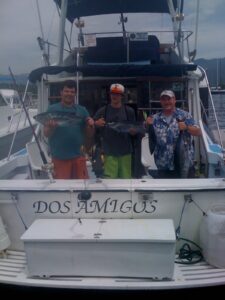 Let me start off with the Bay fishing here in the Nuevo Vallarta. The summertime fishing here in the bay can't be beaten. One of the very best places anywhere in the world for fish. With all the bait in the warm water temperatures and the abundance of fish in the bay. It is going to be a fantastic summer.  We have the yellowtail, skipjack tuna,  and mahi-mahi that have been biting this month. This time of the year we do experience some light rains in the evening. These light rains also produce incredible fishing conditions right here in the bay. We will be using the pitch baits, trolling, jigging bottom fishing, and kite fishing on certain days. If you're looking for an all-around great spot for a  vacation and fishing  Nuevo Vallarta has everything to offer. We offer all different kinds of boats.  There are many sizes of boats here on our deep sea fishing charters and Bay fishing.
Speaking of offshore fishing here in Nuevo Vallarta in the summertime we catch just about everything. The big tuna, huge marlin, mahi-mahi, and sailfish. This month of June they are plentiful offshore. If you're going to be doing one of our offshore trips please contact us before coming down as we do stay quite busy in the summertime. We basically need to know how many of them in your group and what you like to fish for. With this little bit of information will try to direct you to one of our captains or customized fishing trips that we offer here in Nuevo Vallarta.  There are many variables we check before sending you out on our fishing charters.  The tides, water clarity, and temperatures are just a few of them.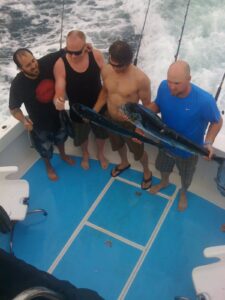 If you're coming down and looking for a big trophy fish the summertime produces more trophy fish than any month any months here in Nuevo Vallarta.
Here in Nuevo Vallarta, we offer many other water activities like cruising, snorkeling, and diving trips. The coastline is dotted with 5-star hotels and we'll be happy to make a recommendation if someone needs help. So if you're looking for a fun time, fishing and a great Beach Resort Nuevo Vallarta had what you're looking for.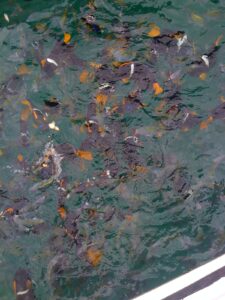 Looking forward to seeing everyone on here this summer stay safe and see you soon
Captain Paul and Crews