The Puerto Vallarta fishing September report started with a bunch of nice fish being caught.  Mexican Independence Day in Mexico was with some great clients coming to fish for all kinds of pelagic fish. Our groups were mixed, new clients, repeat clients, friends, and families. The family group trips were mostly along the bay fishing for small game like some of the yellowtail, Spanish mackerel, snapper, and roosterfish.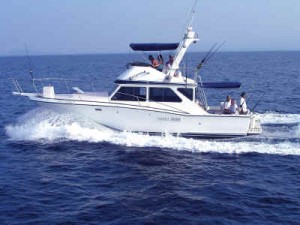 Puerto Vallarta fishing charters were quite the busy this weekend with fantastic fishing action.   We have had some incredible weather to go along with incredible fishing. The high was also around 80 degrees most days and most of the fishing spots had dark blue water.  With these really great conditions here in Puerto Vallarta what are you waiting for?
I have been having a ball on some of the short trips catching all kinds of fish with clients.  We fished over by the  River finding some huge triple tail which is fantastic eating fish out there to fish for in these waters. These and some of the similar spots we are catching all minds of game fish and some large size Spanish mackerel over on the North Shore by Punta Mita. The fast feeding choras and yellowtail were heating the water up. Some days we caught 15 to 25 fish in a 4 Hour fishing trip which left our clients quite happy. They had all the fish they wanted to take with them and some left over.
The offshore fishing here in Nuevo Vallarta was also out of this world we did several 8 to 10 hrs. trips on the Northside Punta Mita to all the way to Sayulita. There were several Marlin and great mahi-mahi action caught on these trips. One day where we found a dead whale that had been in the water for many days and there were several sailfish and Marlin all around it.   Fishing Puerto Vallarta was hot for the month of September. We used a lot of pitch baits, lures, and downriggers around the dead whale.  The mahi-mahi loves the live bait where they were thick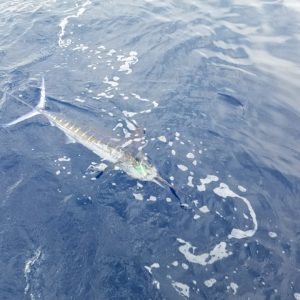 and very hungry. We quickly switched over to some high-speed lures and we're getting double Hook-Ups almost every time we passed near the dead whale was floating. And the surrounding areas Punta Mita and Nuevo Vallarta just to name a few where we found Marlin. The fishing in September here in Puerto Vallarta and inshore fishing is hot and getting better every day.  The weather is to die for so come to enjoy some of this incredible fishing with the sunny weather while it lasts .. Come back to see what we have to offer here in Puerto Vallarta fishing
Captain Pete
toll-free from Canada and U.S. 800 4306048 for latest report Puerto Vallarta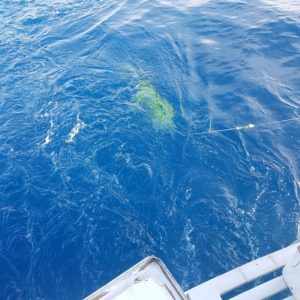 August starts to bring the warm water to Puerto Vallarta fishing. The fishing has been fantastic.  The water is clear and blue and around  88  deg. offshore.  We have been catching sailfish, roosterfish dorados, and marlin.
The inshore fishing has been rocking catching all kinds of game fish. The yellowtail, Bonitas, snapper, mahi-mahi and even sailfish on some days. The weather is perfect and fishing is great. What are you waiting for ??