Nuevo Vallarta Fishing report from Owners Direct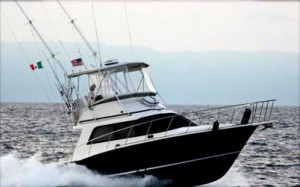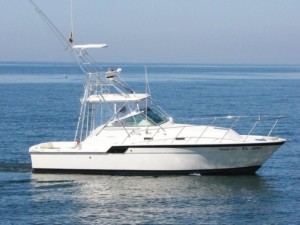 Click Here for Questions & Answers about Fishing Nuevo Vallarta Information.
Contact: nuevovallartafishing@hotmail.com
Nuevo Vallarta fishing and Sayulita fishing Charters
For fishing rates offered by owners here in Puerto Vallarta click here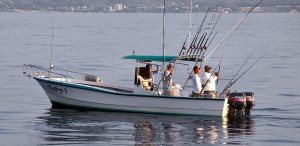 THE BEST BOATS AND CAPTAINS IN PUERTO VALLARTA, FISH WITH US AND SEE THE DIFFERENCE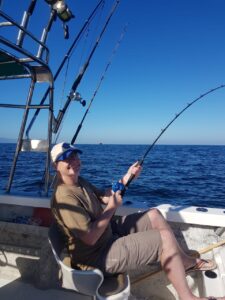 Nuevo Vallarta April 2020 fishing report. The last month of March started off with some incredible fishing catching all kinds of small game in the bay and pelagic offshore. As everyone in the world knows the arrival of this virus made us come to a screeching halt after the coronavirus was discovered in China. This virus has affected all parts of the world and will include Nuevo Vallarta Mexico. We know it's coming.
Coronavirus update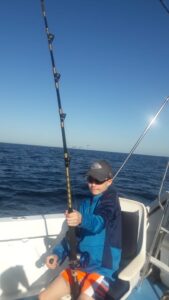 Here in the Nuevo Vallarta there have not been any cases of the Coronavirus as of the writing of this fishing report. With the way the virus is spreading we know that they will be cases here soon. People are taking every precaution that we can and listening to the governmental guidelines keeping are families, friends and clients safe. I'll know sooner or later the coronavirus will arrive and we are preparing for it. We are praying for everyone's families here in Mexico and around the world where there have been infected with this virus much more than us.
Fishing report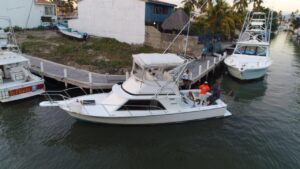 Normally the fishing in April is fantastic. This coming months is when the water starts to warm up several degrees and much more bait showing up inside the bay and offshore. We start to see how much clearer water and much better fishing conditions in April.
With these rising water temperatures this brings in some of the bigger fish here in the Nuevo Vallarta sport fishing. We are all anxiously awaiting to see what's going to happen in the month of April in the way of the coronavirus and how soon are boats will be back on the water catching trophy fish. April is one of the months that we use live bait to catch sailfish, Marlin, mahi mahi, and the big yellowfin tuna.
We'll keep you posted
I want everybody that has worked with us for this year to know that we sent out refunds and have held reservations for people that are still coming down to fish with us. Please take a look at our website, Facebook, Instagram, and Twitter. We will be posting coronavirus update for Mexico and of course updates for when will be back fishing here and beautiful Nuevo Vallarta.
Stay safe and we'll be praying for your families here from Nuevo Vallarta Mexico. Look forward to seeing everyone as soon as this virus is over and the world gets back to normal.
Book our fishing trips here.
Check more about fishing in Puerto Vallarta at https://travelvallarta.com
Captain Paul
See what's happening on the other side of the bay here.
Nuevo Vallarta fishing report October
If you're looking for hot fast action inside Nuevo Vallarta bay fishing has the prefect boat for you. They'll be the skipjack tuna plentiful, some Dorados, sailfish and even the occasional Marlin right here inside the Nuevo Vallarta bay. Most of our Bay trips or 4 hrs. to 6 hours. We always check the satellite pictures and Terrafin for water temperatures and this way we usually can put our clients on the fish really quick. So if you're wanting to do a short trip with a lot of action in Nuevo Vallarta October is a great month to be here. If you wanted to get off shore and go for some of the huge game fish that we offer October is one of the very best of months.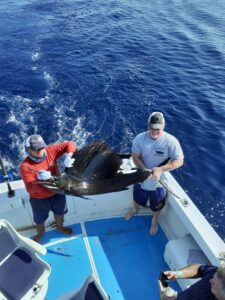 Big game fishing in October out of Nuevo Vallarta means big marlin, huge dorados, big tunas and sailfish. October is the ends of the rainy season and the start of the really big fish season. We usually catch a lot of big fish in the summer but October starts the official big game fishing month right here in NuevoVallarta fishing. The favorite places that we'd like to fish or some of the similar ones with the summer fishing along with a twist that the fish are usually more active in October and larger .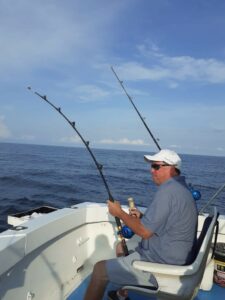 If wanting to come down and fish with us here in October and now is a great time to book as our offshore fishing adventures are filling up fast on all of our boats. My Captains offer several kinds of fishing trips here and Nuevo Vallarta fishing. We have are 28 super pangas for fishing inside the bay that are great for the for 6 or 8 hours. We also have 32 ft. midsize sport Fishers that are fantastic for offshore fishing can do your 8 or 10-hour trips with these and you run a few more lines than the Super panga does. Our 40 foot and 50 foot boats are perfectly designed for any type of fishing trip that you want to do and here and really good for the offshore fishing. In October you will want to take a 8 hours is the minimum fishing that you're going to want to do for offshore. The offshore action in Nuevo Vallarta is really exciting and rewarding. October fishing in Nuevo Vallarta has to be one of the best months where we will be catching all kinds of pelagic fish here offshore and inshore.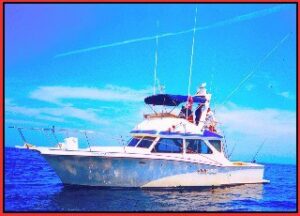 So if you're coming down soon be sure and shoot me an email ( vallartafishing@hotmail.com ) or call me on my toll free number ( 800 430 6048 ). I'll be more than happy to answer any questions that you might have about the size of the boat it's been hitting lately and the best times of the day to fish.
Look forward to seeing everyone here in Nuevo Vallarta fishing.
Tight lines
Capt. Pete and crews
contract for more info: nuevovallartafishing@hotmail.com
Nuevo Vallarta fishing report September
The offshore fishing is picking up just in time for the Labor Day Holiday holidays here in Mexico. Fishing for the big ones outside of the light house a few miles has been really good for the big marlin and tunas. The other great spot is out past El Banco where the tuna and Marlin have been going off like crazy. Tunas have been around 50 lbs. up to around 350bs. Marlin are like a box of chocolates you never know what you're going to get. The stripers are around a hundred pounds up and some of the Blues are going all the way up to 600 lbs. Find the bait and the thermoclines and you found the fish. For the latest fishing report be sure and call here in Puerto Vallarta fishing as conditions change daily. Water temperature have been around 80 deg. all the way up to 85 deg.
Out by the fishing spot Corbetena around the high points we're seeing some of the Dorado and sailfish. There has been an abundance of bait in the area and this is holding some of the larger fish there. Using the live goggle-eye and the live skipjack tunas this method has been producing very good fishing at the Corbetena. This is also another great area where you can land Marlin some of the big red snapper as well.
Nuevo Vallarta fishing report August
Nuevo Vallarta fishing in August is into a fantastic season already. Our deep sea fishing water temperatures are perfect right now with temperatures between 80 deg. to 87 deg. which is perfect for pelagic fish. We're landing offshore right now black marlin, Blue Marlin a few striped Marlin, Dorado, and yellowfin tuna.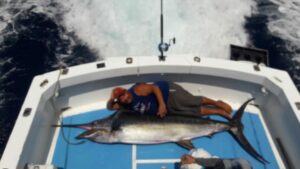 The black and blue Marlin we have been getting are ranging anywhere from a short distance offshore all the way out to the El Banco. The water temperature is 80 degrees offshore and this is bringing the blue and black marlin in a little closer. Their movement is been pretty consistent. We are starting to see some good numbers of Marlin coming in and reported catches/releases. And lots of marlin strikes out there as well in Nuevo Vallarta fishing charters.
The medium yellowfin tuna action has been a few over on the south shore with our inshore fishing. The majority of the larger yellowfin tuna have been offshore and that's been around the Corbetena and El Banco. There have been some cow tuna showing up there. We have been seeing some of the black and blue Marlin mixed in with these tunas. I'm sure for the month of August will see both of these increase in size and number. Fishing remain hot here in Nuevo Vallarta fishing charters.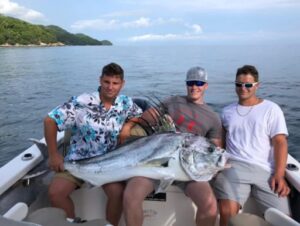 The roosterfish are starting to show up around by some of the reefs that we like to fish close to Nuevo Vallarta. We are just starting to see some of the rooster fish roll in. That's fantistic for some of the shorter trips and for the people are coming down looking for roosterfish. Best way for a roosterfish is either casting some of the poppers to bring them out and best trick trolling live bait with some teasers. So if you're looking for a good time a fun day and some great weather and want to do fishing Nuevo Vallarta is where you should be. Don't forget to call us on our toll-free number 800 430 6048 either for reservations or the latest fishing report. As you know fishing changes here in Nuevo Vallarta from day to day. We look forward to seeing you out there or speaking with you on the phone.
Capt. Pete email for more fishing info: nuevovallartafishing@hotmail.com
Nuevo Vallarta fishing July report
Nuevo Vallarta fishing report July. The fishing here in Nuevo Vallarta has continued to get better as we have the big party of 4th. of July right around the corner. July is always a good time to be here in Puerto Vallarta Mexico as the water has already warmed up close to 80° and some of our hot spots. Later on at the bottom of this report I'm going to include the top fishing places for fishing here in Nuevo Vallarta Mexico. The summer time weather has already started here in Nuevo Vallarta and we've already seen some of the incredible rains that we have late in the evening which does not affect our fishing. The rains bring the fish in closer to shore for fishing here in Nuevo Vallarta. During the day it's been nice and sunny on all of the trips and the light gentle rains that we have been having actually increases are fishing odds. The daytime weather is around 79 degrees and always cooler out on the water fishing right her in Mexico.
The Nuevo Vallarta water temperatures are coming up and down and we're seeing mid-70s all the way up to 80s which is really good for blue marlin and black marlin. When fishing with us you can always be sure we'll put you in the right water temperature for the right different species. As most people do not realize the right water temps for Marlin, Sailfish and the good eatimg Mahi – mahi. These water tempertures, water clarity and of course bait movement keeps us right on top the fish.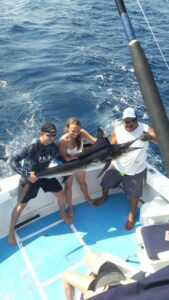 The striped Marlin action is still holding good inside the bay but has have been better offshore. As I stated above when the water temperature gets up to 78 to 80° ideal conditions for the big blues and the black marlin. I'll be putting in the report hard top places that we love to fish for these big pelagic fish here in Nuevo Vallarta Mexico. The Dorado action starting to pick up seeing some of the smaller ones inside the bay along with various other palgic species for good eating fish. The bigger Dorado have been offshore using skip baits on a fast roll. The tuna over on the south side it's been hit-and-miss catching some nice footballs size tuna. The bigger Tunas have been offshore on the 10 and 12 hour trips we're starting to see some of the bigger ones you show up. Best way to catch these big yellowfin tuna is a slow troll with live baits or kite fishing when the wind permits.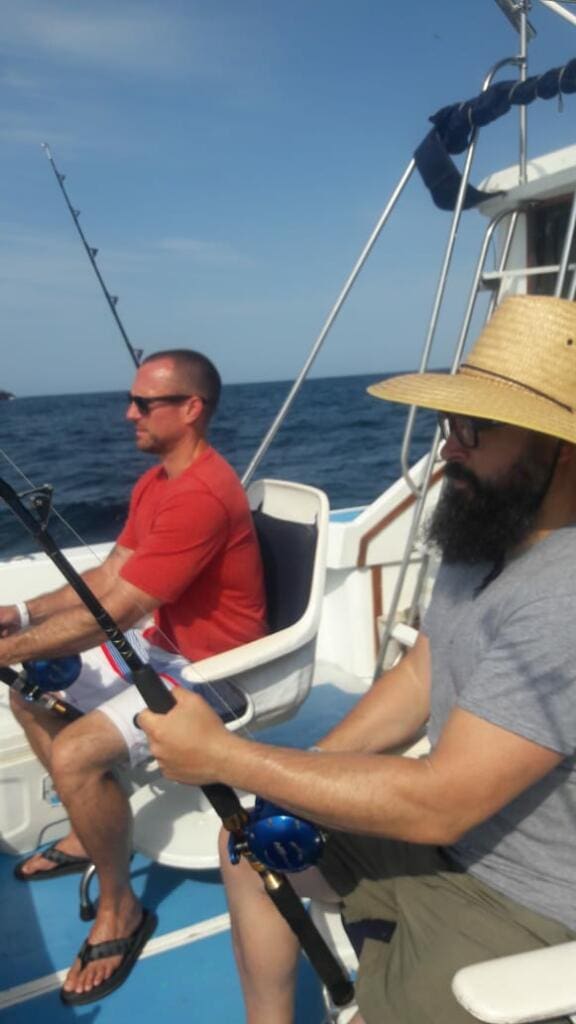 So there you have it for the starting of July the fishing is good inshore and offshore. Lots of events happening is that I said the Fourth of July fishing near Nuevo Vallarta will be incredible in a few days. So if you're looking for a fun time I'm fantastic fishing come on down and fish with the pros and you'll be able to see a big difference.
Fishful thinking
Capt. Paul
chech out the marlin by 15 year od girl on our boat
Nuevo Vallarta fishing June report.
Summer is just right around the corner and so is the fantistic fishing. The warm waters have moved into Nuevo Vallarta and all kinds of bait fish. I was talking about last month and this brings in all kinds of great pelagic fish. Nuevo Vallarta fishing in June is one of the best months for big fish and all kinds of bay fishing for the kids just in time since school will be letting out soon.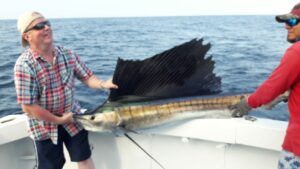 For the fisherman that come down all the time in June and fish because of the great fishing they already know that we have incredible fishing. This is the beginning of our late evening light rains. These light rains bring the fish in closer inside the bay and it has pushed out into the abundant Rivers feeding into the bay of Puerto Vallarta. It rains that happen almost every evening really heat up the fishing here in June fishing Nuevo Vallarta.
These gentle rains cause a phenomenon that we call a trash line. That's where you're going to see all kinds of articles floating in the bay that have been pushed out with the forceful rains. This is one of the greatest places to catch the mahi-mahi also known as Dorado along this particular line. You can also see this line when you have two different currents or two different temperatures reaching 80 deg. coming together. It will look like super blue water on one side and then off color on their own on the other side. You fish on that blue side trolling some live bait and it's a no-brainer. Instant fish catcher in Nuevo Vallarta fishing.
Sometimes these particular fish lines can extend up to 50 miles long. This makes a large area for fishing. We just don't have time enough in one day to fish the entire line. We usually mark these and then check our wind currents and the tides and we can roll right up on that same line the very next day to catch even more fish. Sometimes they start inside the bay and go away offshore into the deep water and you run into the big marlin or big tunas.
In June this is the time of the year that we can start to see the large schools of tuna showing up. That would be inside the bay and offshore you just never know when these large schools of tuna are going to pop up and you're going to have the time of your life bending every rod on the boat.
June is also when we start seeing lots of the mahi-mahi and rooster fish. Great way to catch these fish is dragging a couple of teasers along would live bait behind the boat that works every time. So whether you're coming down this June here in Nuevo Vallarta fishing and looking for the bay fishing or offshore going for the Big Tuna and Marlin. June fishing report in Nuevo Vallarta has got you covered.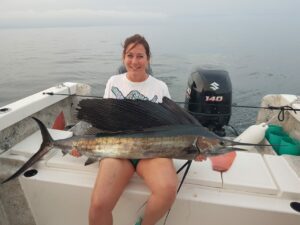 Come on down and see what we have to offer in the way of prices boats. People have never been on one of our fishing charters don't know that money can buy happiness.
Tight Lines
Capt. Pete and crews
from Puerto Vallarta where the friendliest people in the world live
Nuevo Vallarta fishing report here in May. If you're looking for some great action along the coast here Nuevo then you found your spot. The springtime action is in full effect and we'll get you plenty of Rod bending action here. Either in the bay or offshore the fishing is heating up just as is the water temperature.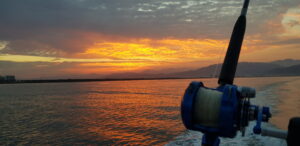 Some of the fishing factors that make all this happen are the trade winds that bring in the warm water and just tons of bait fish. When we start seeing tons of bait fish come swimming in the big fish are right behind them. All we need to do is have plenty of live bait and some of the special rigs for using right here in Nuevo Vallarta fishing. Some of the best rigs we like to use are called the condom rigs. That's where we take a natural Bay and put one of our black Bart lures . The fish hit these rigs like crazy.
Nuevo Vallarta fishing has some great action for the month of May. When we start seeing the water's getting warm and the bait filling up the bay we know the fishing got to be good offshore as well. We're already seeing some of the Tunas, Marlin and mahi-mahi showing up. Sailfish love to be here during the month of May because of all the bait that we're seeing. More bait means more fish. It's that simple.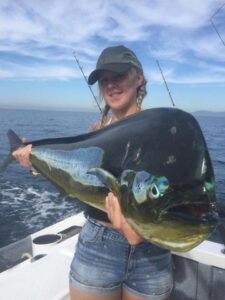 If you're coming down as just a couple of fishermen or all the way up to 200 people we can get you out for a fun day fishing here in Nuevo Vallarta. You could give us a call on our toll-free number or shoot us a quick email for the latest fishing report.
If you have any questions how about fishing here or booking a fishing charter feel free to give us a call where the only American owned and operated company in Nuevo Vallarta. We've been offering our services here for 35 years at discount prices. Along with the deep sea fishing charters here in Nuevo Vallarta we also offer snorkeling and Bay cruises along with whale watching.
Come down this May and catch the fish of your dreams
Capt. Pete and crews
Toll free 800 430 6048
Nuevo Vallarta fishing report April
Nuevo Vallarta fishing here with Captain Pablo reporting some really good action around Punta Mita and the area up north. Some of our larger boats have been doing the longer Charters offshore on the north side of the Bay. We've been seeing really good action or Marlin and some sailfish. We are seeing more and more of sardines and bait fish and showing up in the bay and the surrounding are for some fantastic action.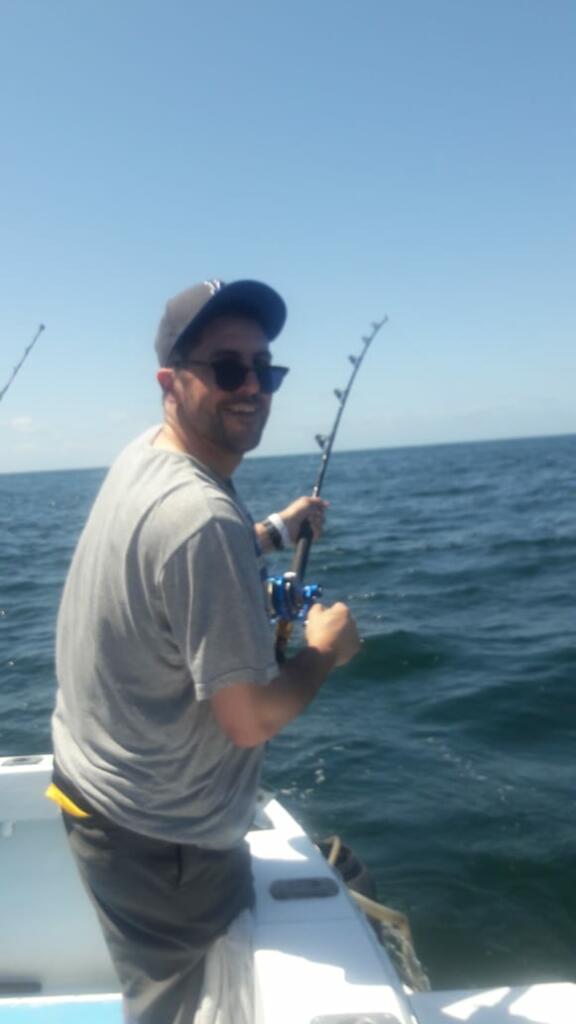 Inside the bay fishing in Nuevo Vallarta with one of our best Captain Freddy reporting really good action yellowtail action, some Snapper action , California Bonita and some of the really good evening Spanish mackerel. On most days we are see huge schools report by Capt. Freddy on the super panga action.
The south side of the bay with Captain Peter reporting some other really great action. There's been some striped Marlin, couple of Dorado and tons of the yellowtail. From Las Animas all the way out to the point El Faro great action great fishing from the bay out towards the light house. When the action is hot on the south side of the bay the action can't be beat. It's catching not fishing.
Captain Charles commenting on some good action out by the islands. From the islands we can fishing the El mora . Where there has some good action lots of Yellow Tail some great bottom fishing and some of the bigger Spanish mackerel. See a few stiped marlin mixed in with the yellowtail.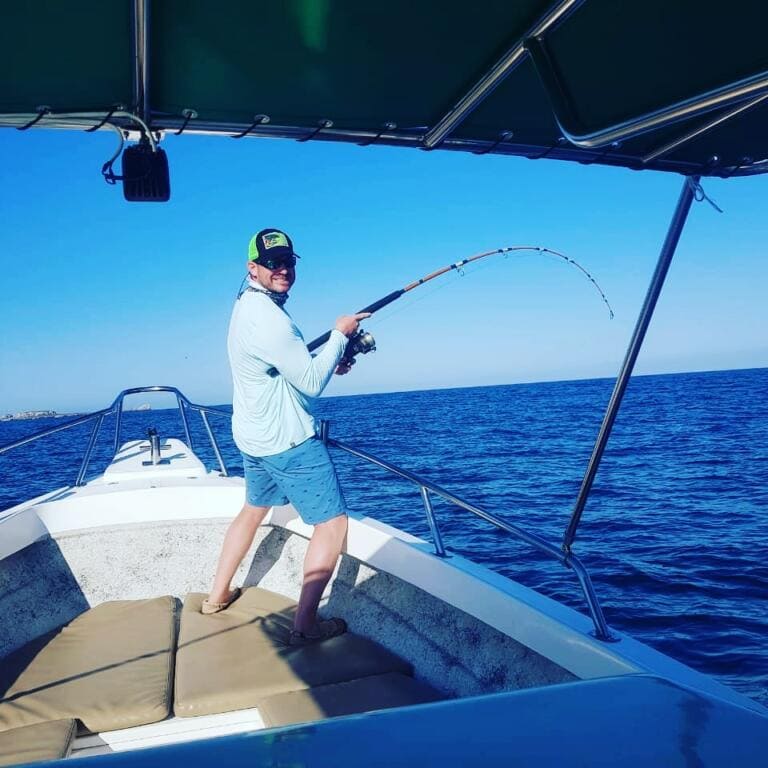 The huge fish in the large schools and sardines that moved inside the bay and just offshore. This makes him some really good fishing for all kinds of the pelagic fish are in Nuevo Vallarta and the surrounding areas. April is a great month to be here fishing and are all kinds of fish for the taking. So if you're looking for the big trophy fish, big Tuna or just a lot of action come down and join us right here in Nuevo Vallarta fishing. If you need information on one of our boats for people from two to 200 give us a call at 1 804-306-0484 the latest fishing report. or email at vallartafishing@hotmail.com
Captain Peter Vines and Crews.
PS before I don't think money can buy happiness I've never been on one of our deep sea fishing charters
Nuevo Vallarta fishing report March
The Nuevo Vallarta fishing is heating up along with the water temps. The month of February the water temperature moved up a few degrees to 78. This happens every spring here in Nuevo Vallarta . This brings in all kinds of bait fish like sardines and other baits we enjoy to see this time of the year. We've been having some fantastic days fishing here inside the bay close to Nuevo Vallarta fishing. One of the best fishing months is March. This is a great month to be here as we have the March trade winds that are great to fish on with all this bait showing up here . We have nice breezes that come up every afternoon around 1 pm. . We've already been seen big schools of bait fish inside the bay which is attracting a lot of pelagic fish to come in the bay for our fishing charters here in Nuevo Vallarta. Some days we are seeing schools of the yellowtail up to a hundred in a school. This means a lot live bait action for pitch baits which is one of our favorite methods to fish here inside the bay. Another fun way to catch these fantistic fish is using some of the poppers or plugs. This means casting all day with great action and fast action. There's been some roosterfish showing up over on the south side of the bay along the Mismaloya area and Quimixto area. Overall south side Of the bay is seeing some great action and improving for all fishing conditions.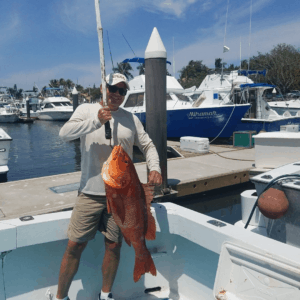 The north side of the bay is producing yellowtail action, Spanish mackerel and some mahi-mahi. The Captains have seen a few sailfish caught over on the north side of the Bay. From La Cruz Haunacaxtle all the way out to islands past Punta Mita. The fishing is strong and the water temperature 78 degrees has moved up a couple of degrees since last February's fishing report. This is really good news as the warm water starts to move in all kinds of bait and the fish are coming in after the baits.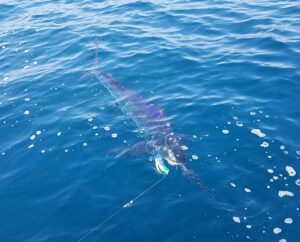 The offshore action here in Nuevo Vallarta still seeing some tunas at the Corbetena along with some of the large pargo also known as huge red snapper. Most of the fishermen know these as the red snapper which are really great to eat and incredible fun to catch. Mixed in with these fish at the Corbetena island we have been seeing some snappers .
Now that the sardines are schooling we should start to see more schools of stripes marlin in our area soon
The Nuevo Vallarta fishing has been great on most days. At times when we're not catching the fish at the Morro we like to use the fish filled reef just behind it which is still holding all kinds of great fish. The is some great bottom fishing there with lots of schools of the yellowtail and some mahi-mahi action as well. The good eating red snapper fishing is usually good at this reef. We use this as our go to fishing spot when we want to catch a lot of fish for our clients.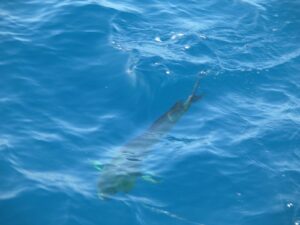 Good action from Nuevo Vallarta towards Sayulita still having incredible fishing action. We're seeing some sailfish and a few striped Marlin in that area. The gentle March winds are bringing in more bait for us along with some warm water which is going to increase the fishing odds on the north side. Even further up north we've even seen some schools of red snapper along with the yellowtail chasing the large schools of sardines in the area. These trips are around eight hours and you need to be sure and bring plenty of live bait. All the fishing action here in Nuevo Vallarta has really heated up for the month of March fishing here. The fishing boats here in Nuevo Vallarta more fish and more bait here in beautiful Mexico. This is a great time to be here as the whales are still here playing inside the bay and just slightly outside the bay. Th fishing is just heating up for spring in Nuevo Vallarta . So come on down to enjoy some fabulous fishing with us and enjoy the great fishing conditions we have in Punta Mita Mexico
Tight Lines
Capt. Pete and other owners
toll free tel: 800 430 6048
Puerto Vallarta fishing February 2019
Puerto Vallarta fishing charters in February. The fishing charters here in Puerto Vallarta for February have not changed a lot since last January our last fishing report. The fantistic news is we're seeing more bait like sardines showing up which is drawing in some of the bigger fish like the Marlin which showing up in good numbers. Mahi-mahi are still hanging around as the water temperature is still holding 78 and even up to 82° in some of the offshore fishing places. The pelagic sailfish are still here inside and outside the bay of Puerto Vallarta. The last couple of fishing trips that we've done here in Puerto Vallarta Mexico we've produced some of the sailfish here inside the bay mixed in with a few striped Marlin. The best action has been offshore working some of the thermoclines that we're reading off the Terrafin satellite this is puts us on top of some really great fishing action.
The fishing action overall around Puerto Vallarta has been incredible for the shorter trips. We are catching the yellowtail ,Spanish mackerel and in good numbers, There has also been some sailfish and a few striped Marlin. Been seeing some of the roosterfish show up here in the bay which is good news for everyone. As I said before the bait fish like sardines are moving up the coast and we're seeing a lot of the birds working on top of the water which is pointing us directly to where the fish are hitting.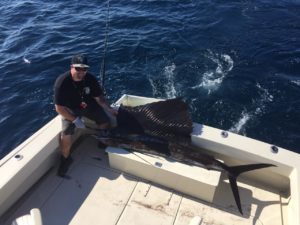 The Nuevo Vallarta fishing report is very similar to the Puerto Vallarta fishing report. Being they are very close to each other. Some days we've been working the fishing area and over by La Cruz on the North Shore for some of our inshore fishing action for our to 6 hour trips. This is producing some good fish and some really good numbers. As special feature here on the inshore fishing the whale watching just been incredible and I'll try to include a few of the great videos that we've been taking. It's always nice to be out fishing and to take a short break to see these magnificent humpback whales that come here each year from Alaska.

Puerto Vallarta whale watching
The Punta Mita fishing report with Capt. Paco in the has offshore action is reporting good numbers of marlin and sailfish. The three great places that we've been fishing or the El Morro, Corbetena and of course our old standby favorite El Banco still seeing some of the big tuna is out there 25 to 75 lb. striped marlin good numbers and the sailfish up north towards Sayulita. Best action for offshore has been skipping baits and using some Pitch baits. One of out favorites is live baiting at some of the areas that I have listed above this almost ensures us for a good game.
To Sayulita fishing report is good As It gets . Capt. Light says there's been some red Snapper showing up and some roosterfish, and great Spanish mackerel action. There has been also good striped Marlin and sailfish action. Just a little farther north from Sayulita fishing has been some mahi- hot mahi action.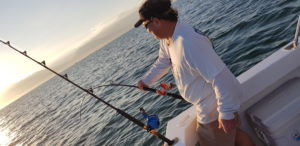 It's obvious that everyone can see the February fishing here in Puerto Vallarta Mexico has a lot to offer and some of the surrounding areas in in high gear. This is one of the best months to be here on a fishing boat, whale watching or just soaking up sun on the beach having a cold one. Come on down and enjoy some of this wonderful fishing and fantistic fun.
Capt. Pete and crews
off: 322 22 10920
cel : 322 29 46240
toll free: 800 430 6048
from Puerto Vallarta Mexico where the friendliest people in the world live.
Puerto Vallarta fishing January 2019. We are an American operated and owned and has been offering our charter services here for over 30 years. Our fishing charter company is ready for families, large groups and novice Anglers. We also take out a very large number of experienced fisherman and people wanting to fish in our international fishing tournaments.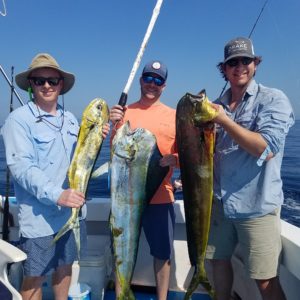 Our Puerto Vallarta fishing charter weather.
The Puerto Vallarta fishing weather is perfect in the morning around 66 degrees most days and then warming up to a nice toasty 80 degrees in the afternoon. Water temperature is hanging around 78 degrees in most of our fishing spots. This is incredible for sailfish, striped Marlin and Dorados as they really like this temperature of water. Most of the big fish are just like you and I they have a water temperature they like to feed in and also swim in. This fact is true all around the world and not just in Puerto Vallarta Mexico.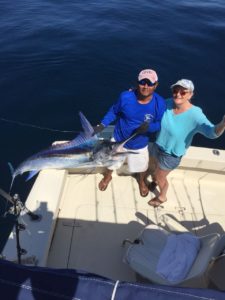 Puerto Vallarta fishing January 2019 the inshore fishing is hot as can be. The jack crevalle action is just off the charts. The good eating Spanish mackerel are still hitting strong over by the Vidanta resort in Puerto Vallarta. The Dorado are hitting really well on the inshore fishing action over close to Nuevo Vallarta the hotel Decameron and were only a few miles from the shore. These close inshore fishing trips are great for people coming down that like to do a four or six hour fishing trips. Excellent for families couples or folks that like to short fishing trips. The roosterfish are showing up on the South Shore and pretty good numbers, some of the places that we like to fish like Mismaloya and over by Las Animas beach on the South Shore are great. These are great for the 6-hour fishing trips. The water Clarity is blue on the inside for fishing and around 78 degrees and higher in some places right now.
The offshore Puerto Vallarta fishing has heated up with the striped Marlin showing up, sailfish and some of the mahi-mahi. Not uncommon to see the striped Marlin and sailfish hanging out in some of the better fishing areas in Puerto Vallarta. Soon we'll be seeing more and more schools of sardines showing up and this ensures the great numbers of striped Marlin and sailfish along with good mahi-mahi action. Some of the best methods that we've been using are the high-speed black Bart lures, pitch baits, kite fishing and trolling to catch these fish. Been having really good luck when we're seeing the water Clarity change from the dark blue over to the light green. Working the thermoclines it's still a really good idea when fishing for these pelagic fish.
If you're looking for great action here in Puerto Vallarta fishing January 2019 this is the right place to be. Come and enjoy some of this incredible action we are having here in beautiful Mexico. Remember we can take out from 2 Anglers all the way up to 200. Fish with the top boats and the pros and see the difference.
Tight Lines
Capt. Pete and crews
Puerto Vallarta fishing report December
Puerto Vallarta fishing report for December. The fishing was great in November has been incredible in December. The fishing has been getting a little better each day here in Puerto Vallarta Mexico the last couple of months. The inshore fishing charters and offshore fishing charters are some of the best fishing action in many years. There are all kinds of Marlin , sailfish, mahi -mahi and tuna caught on these Puerto Vallarta fishing charters. The inshore Vallarta fishing charters have been fantastic producing lot of the skipjack tuna, mahi-mahi, and a few sailfish here inside our beautiful Puerto Vallarta bay. The bay is call Bahia de Banderas which means the bay of flags. It is the largest bay in Mexico. The best bet for these inshore fishing charters here in the bay have been for the duration of 6 hours .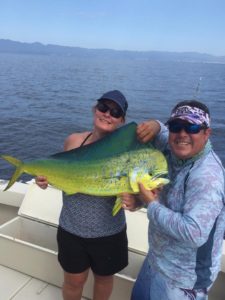 The Puerto Vallarta fishing over on the South part of the bay around Los Arcos. We also have been heading out west towards private beach area of The Light House. This has have produced many of the Mahi-Mahi and even some huge large sailfish. The skipjack tuna, Bonitas, and Spanish mackerel are a few of the fish that have been on the hitting. These Puerto Vallarta fishing charters inside the bay are usually around six hours. These inshore fishing trips are great for families and of course people that like the shorter deep sea fishing trips. The trip starts at around 7:00 in the morning and continues on up until 2 p.m. in the afternoon. The action has been good and all trips I've been very successful.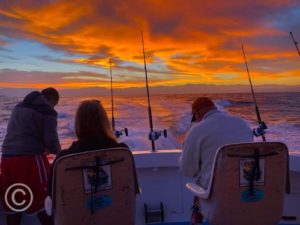 The offshore fishing charters have been best with 8 and 10 hour trips fishing here in Puerto Vallarta. The best fishing bet has been for 10 hours. Most of these trips have been out to the rock also known as the Corbetena. The Marlin have been strong around the rock. There are lot of baits there for the taking for these large fish. The larger mahi-mahi and sailfish or around the same area. Best fishing technique has been catching the large 5 to 10 lb. baits. The kite fishing has produced a lot of tuna all the way up to 250 lb. The out riggers with the large baits have been great for the big marlin as well. As you can see the offshore fishing and inshore fishing here in Puerto Vallarta Mexico is great. This will continue to hold strong through December. On another side note to Humpback whales are showing up in good numbers. This is great news for all our clients that we take out for fishing or whale watching. On the way out and on the way back will have incredible opportunities to see the 20-ton 40 foot w. If you have any questions about please give us a call. 800 430 6048.
whales.
Capt. Pete and crews