Nuevo Vallarta fishing report October. The abundance of sailfish , Marlin, and mahi – mahi have kept us busy fishing here in Nuevo Vallarta for the larger hot marlin this month. The offshore action right now for October is really and getting better. The most consistent bite has been around the Corbetena or Rock  were there has been  nice tuna as well. These trips that we're doing now offshore are 8 to 10 hours and I've had some really great success on all the pelagic fish that were fishing for here in Nuevo Vallarta Mexico. The black and blue marlin have been hitting the live bait very well and also some of our black Bart larger lures. The best Vallarta had one on the other day that was almost 700 lb.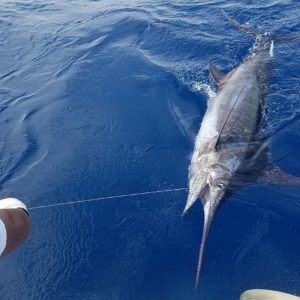 We have one of our big annual deep sea fishing tournaments coming up in La Cruz  which is only 10 minutes south of Nuevo Vallarta. There will be a lot of boats available for this tournament and this is one of the best times to fish here in Nuevo Vallarta and the surrounding areas. There should be lots of prizes like automobiles, cash, fishing equipment, boats and many other prizes. If you're here during October 31st to November 4th this is a great tournament to come and check out or participate in. At this time we have one fishing boat available for this tournament. Send me an email if you're interested in fishing this international tournament that we have every year. vallartafishing@hotmail.com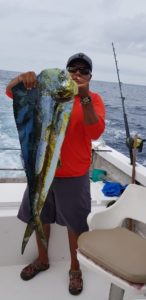 The inshore fishing is still holding steady as well here in Nuevo Vallarta fishing. The Spanish mackerel bite has been really good over by the river Ameca close to Vidanta Hotel and over on the North Shore Skipjacks, some of the smaller mahi-mahi, Snapper and some other small game has been really good fishing. On the South Side there has been some roosterfish, the yellowtail and other small game all along the shores there. Fishing overall for the month of October here in Nuevo Vallarta Mexico and simply just been off to charts. If you want to come out and have a fun day trip we have several boats that can get you out there and we have larger boats for taking you off shore for some of the big game fishing that is really hot right now.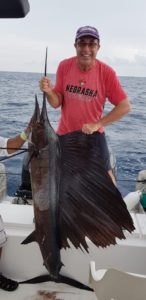 Come down and enjoy some of those super fishing here in Nuevo Vallarta Mexico will be looking for you out on the water. Give us a call at our toll free number +1-800-430-6048 for latest Puerto Vallarta fishing report or email vallartafishing@hotmail.com.
Fishful thinking
Captain Pete and Crews