Puerto Vallarta fishing report February incredible. Some things have changed since our last fishing report in January. The fishing is hot in most of the offshore fishing places we fish all through the year. The inshore action it's still good and catching a lot of the California bonita, yellowtail, Spanish mackerel, dorados and also some other game fish like roosterfish along the South Shore. This kind of fishing action is hard to beat here in Puerto Vallarta Mexico.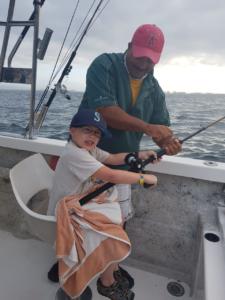 The one big difference in our deep sea fishing is that we have in the month of February and March is weather changes in the wind and some waves. These are the two months of the year where we can have wind and waves but nothing really big here and our beautiful Bay in Puerto Vallarta. The fishing remains the same as the last couple of months but where and how we catch a lot of big fish changes. When fishng inside the bay and outside we just have to check out what the wind is doing and make appropriate changes. In most days early in the morning the seas are super flat but in the afternoon they can pick up a bit . The winds can pick up to 15 knots on some days offshore. When this happens we have to change lures and methods of fishing to catch fish offshore. Kite fishing works well with a little bit of wind.
The offshore action still really strong with some Striped Marlin, sailfish and some of the mahi – mahis. This is of my favorite times of the year we like to run offshore early in the mornings see if we can pick up some large game fish like Marlin or sailfish and then in the afternoons come back to some of the areas around reefs. There are rooster fish, yellowtail and other game fish. These kind of fishing trips are done usually in 8 hours and have good success for hooking up on some of our larger fish. When live baiting around the reefs there are several options for fish. The roosterfish love to hang around the shallow reefs. Some of the other fish like the snapper, yellowtail and even mahi -mahi feed in these shallow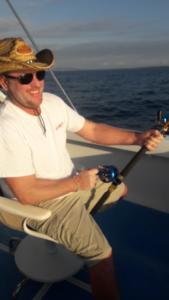 These are perfect for 6 hrs. trips in the waters off the Puerto Vallarta fishing coast.
The month of February offers great fishing times. The best fishing this time of the year is offshore early for the big ones and inshore in the afternoon. This is like having a two for one trips. The best of both worlds in fishing here in Puerto Vallarta.
The inshore action is hardy ever effected by the strong trades winds here during the month if February and March. The main reason is the bay is so well protected by our beautiful mountains that surround our bay.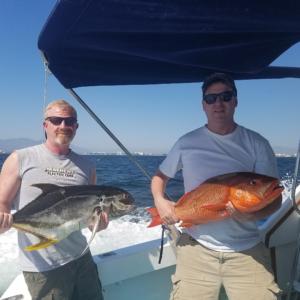 The Puerto Vallarta bay fishing remains incredible and every day more sardines are showing up. The bait movement alone is the reason to be here fishing in Puerto Vallarta. Some of the other incredible factors are the friendly people, whale watching, hundreds of great dining restaurants to chose from along with where some of the best winter fishing you can find here in Mexico.
Come and enjoy the Puerto Vallarta Charter fishing report. We are ready for deep sea fishing ,whale watching or just hanging out in the bay snorkeling/diving
. Please call toll free for latest report 800 430 6048.
Capt. Pete and crews
http://www.travelvallarta.com
Off: 322 22 10920
Cel:322 29 46 240