Nuevo Vallarta fishing report February 2020. When February rolls around here in the Nuevo Vallarta everyone's happy as we have so much going on from BBQ cook-offs, chili cook-off, all kinds of shows and some of the best fishing on the planet. Does not hurt that the whales are playing here in our beautiful bay with some of the best winter weather you will find any where in the world.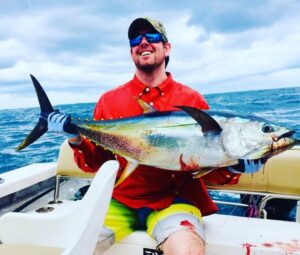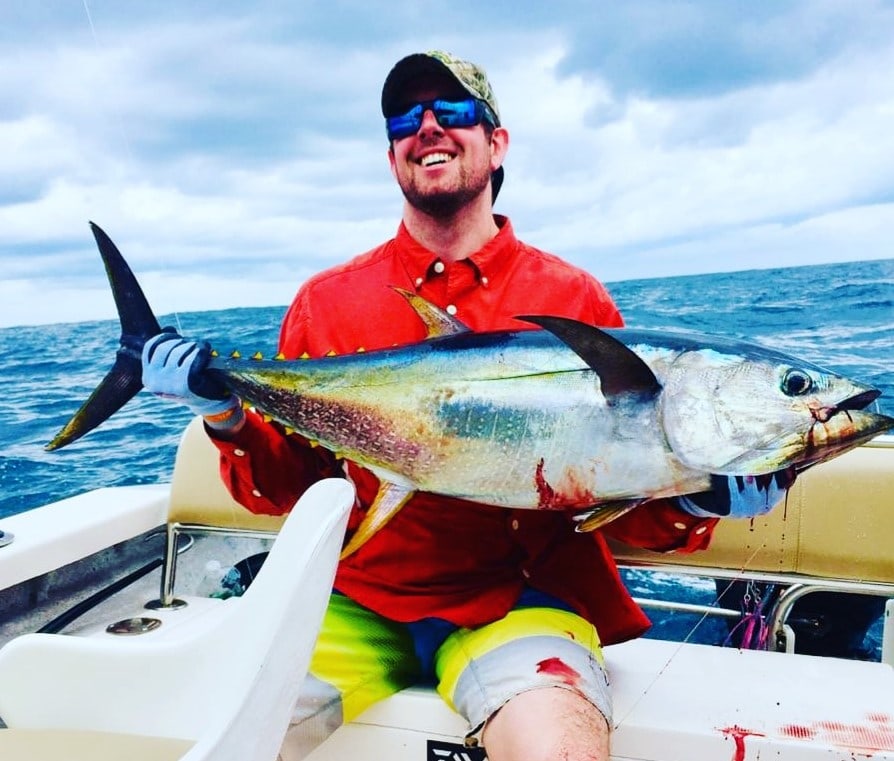 Inshore action
Here in Vallarta It seems like when on particular fishing cools off another one is just as hot as can be. This happens here several times a year. We have had some great in inshore water conditions. The water temps are up and down but have never reached the point where you could say it was cold. This year in February we had some cool water here that usually turns off some of the inshore fishing but somebody forgot to tell all these fish we've been catching. We've been landing lots of Yellowtail, Spanish mackerel, Snapper, roosterfish sailfish, and many mahi-mahi. To put it bluntly inshore fishing it's pretty much off the charts. If you're looking for some great action, perfect weather and all the fishing action you can handle on a short trip then Nuevo Vallarta fishing has got you covered.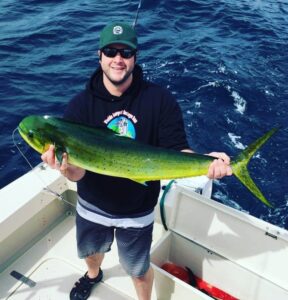 Whale Watching
When the water conditions are just right for fishing around 75 to 80 degrees it keeps the rods bent and some of the best whale watching anywhere. I've never heard one person complain about watching these great majestic creatures breaching, tail slapping and doing all kinds of aerobatic breaches. I've lived here for 35 years and never get tired watching them play here in our bay. So if you're looking for an action-packed day inside the bay for 6 hours with some killer whale watching, great ceviche and all the fishing action you can handle shoot us a quick email, We would love to have you out there on the water with us on one of our fishing charters.
Offshore report
If you're thinking about coming down here to Nuevo Vallarta and want information about a offshore fishing trip February please see what will be biting and where we have been catching these fish. Hard to believe that one spot has so many different options and so many different places to fish. In February we still use famous fallback places like the El Morro ( 8 hr. trip) El Cortbetena ( 10 hr. trip ) with one big exception. These are the months coming up where we start to see all kinds of bait movement on the north shore out past Punta Mita. These fishing adventures are 8 hrs. are action packed. The offshore fishing past the Marietas Islands can produce all kinds of fish sailfish, mahi-mahi, roosterfish, tuna and marlin in February. These types of deep sea fish charters are 8 hrs. and often catch multiple kinds of pelagic fish.
The month of February and March is when the bait fish start to move in close to shore and will hold he fish right along the coast. This produces some of the best fishing of the year. I've been out offshore fishing and seeing the water completely light up with fish boiling on the water. As I said before all kinds of fish like sailfish all the way up to yellowfin tuna. When the conditions are right fishing February Nuevo Vallarta has all kinds of benefits. We have the shorter run, more abundance of fish and all different kinds of species to fish for. You add up all these conditions and it equals fabulous fishing here in Nuevo Vallarta. To see fishing rates click here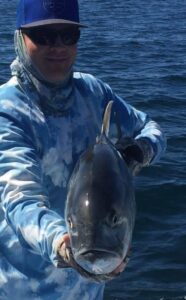 Spring break her in Nuevo Vallarta will be kicking off soon with all kinds of activities and all different kinds of travelers coming down to enjoy the sun, beaches, perfect weather and incredible fishing we have to offer. So if you're looking for fun action and fun things to do February or March here in Nuevo Vallarta we've got you covered. Be sure and book early.
For info on Puerto Vallarta fishing check travelvallarta.com
Contact us for any doubt you may have about.
You can book your fishing trip here.
Capt. Paul