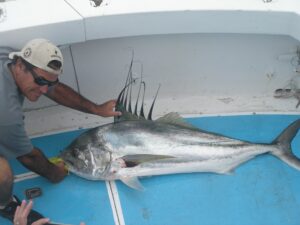 Fishing in Nuevo Vallarta is more of an extension of the fishing that we have in Puerto Vallarta. Being the new and up-and-coming Resort in Mexico in Nuevo Vallarta. There are unlimited fishing possibilities and endless seasons to catch them. I will give you a brief Nuevo Vallarta fishing report for May 2020.
Inshore fishing
When fishing in nuevo Vallarta you're going to have several opportunities. They'll be the bay fishing where you can catch the skipjack tuna, the Snapper, the great eating Spanish mackerel and mahi mahi. Most of these trips are in the bay are done in four to six hours but can produce some really great fishing.
Bottom fishing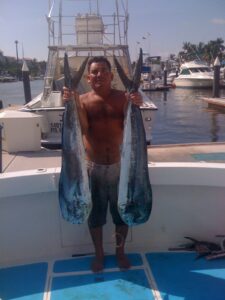 For some of our folks that fish with us here and beautiful Nuevo Vallarta they like to try the bottom fishing. A lot of days we can catch all different kinds of Snapper sometimes even flounder here in the Nuevo Vallarta. When you're fishing with live bait you just never know what's going to happen or what you're going to catch here in our bay. If we fish with live bait and with cut bait. This improves our odds of catching all kinds of good eating fish. If the fishing slows down we always have the follow up with jigging. This is one of the oldest types of fishing in the world and very productive here in the Nuevo Vallarta bay.
Offshore fishing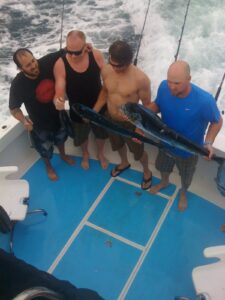 When fishing out of Nuevo Vallarta one of the best options is offshore fishing. When you're fishing offshore from Nuevo Vallarta there is a large array of fish that can be caught. A lot of this will depend upon the season but almost all year long were able to catch the pelagic fish along with some of the best eating fishing Mexico has to offer.
Just so everyone knows we do have a toll free number for folks that want to call and make reservations in advance or just to check and see what the latest fishing report is.
If you're coming down the to Nuevo Vallarta for our Bay fishing trips or our incredible action for offshore fishing trips please let us know and we customize a special trip for you and family. We look forward to seeing everyone out there on the water.
Check more Nuevo Vallarta Fishing reports here:
For info on Puerto Vallarta fishing check travelvallarta.com
Contact us for any doubt you may have about.
You can book your fishing trip here.
TIGHT LINES
Captain Paul and Crews